Is it possible to eat out at good restaurants while sticking to a bariatric friendly diet?
The short answer… YES!
Just because you have had bariatric surgery doesn't mean you can't go out and enjoy good restaurants with friends and family.
It also doesn't mean you have to blow your diet.
However, you do have to be more aware of your choices versus someone who hasn't had surgery.
As you'll see in this article, most restaurants have many "bariatric friendly" options, but they also have EXTREMELY fattening and high-calorie options. This is where succeeding as a bariatric patient is more art than science.
At any rate, this guidance will point you to some proven bariatric friendly options at some very popular restaurants.
Prepare yourself ahead of time
No matter where you are eating you should always be looking for the same kinds of food. Every menu should have healthier options, and a lot of menus will mark them to make it easier.
Look for lower-calorie options as well as lower fat and higher protein. The more protein in a meal the more fulfilling it will be, thus helping you to not overeat.
Protein also has fewer calories per gram compared to fat which means the more protein a meal has the more bang for your buck!
It's also a good idea to look at the menu before getting to the restaurant so you can already know what you are going to eat or at least have an idea of a few healthy options.
You should never go in without a plan because that is a recipe for disaster!
Some things to keep in mind
The choices you will see below are mostly based on entree options and do not include sides (if sides are included). Since every restaurant has its own selection of sides, we felt it best to focus on the main course and provide you with the knowledge and skills to apply that to choosing sides.
It can be easy to get away from healthy habits when eating out but we have laid out twelve tips to help you stay on track.
These will apply no matter where you eat!
Try sharing a meal with someone
Ask for a to-go box right away
Order a half portion or lunch portion
Avoid soups as they are high in fat and low in protein
If you are getting dressings or sauces, ask for them on the side
Always look for the low fat and/or heart-healthy options
Know what you are going to order ahead of time
Ask for a veggie as your side
Try and avoid alcohol or limit how much
Try and drink only water or unsweet tea as they are zero calorie
Limit going out to eat 1-2 times per week
Avoid foods that have unhealthy or fattening descriptions (fried, alfredo sauce, butter sauce, etc…)
Eating out can be social and a nice way to spend time with friends and family but if you stick to these tips, it will take all of the guesswork out of it and you can enjoy your food and company.
You should also be mindful of any free starters that the restaurant offers, such as bread, rolls, or salad that already has dressing.
Mindlessly eating these as you wait for your food will add up quickly and be sure to throw you off your diet before your actual food even comes.
We are not saying you can't have any, but you need to be aware of the calories you are consuming and work it around your diet accordingly.
10 Bariatric Friendly Restaurants (you won't expect some of them)
1. Panera Bread
What to avoid
Although some options may appear healthy, it is important to look at the nutrition to determine if they are healthy. As you can see below, these meals look like good healthy choices, they're salads, after all. However, if you focus on the calories and fat you will see they are both very high.
Apply this to all menu items to avoid anything that is too high in fat and calories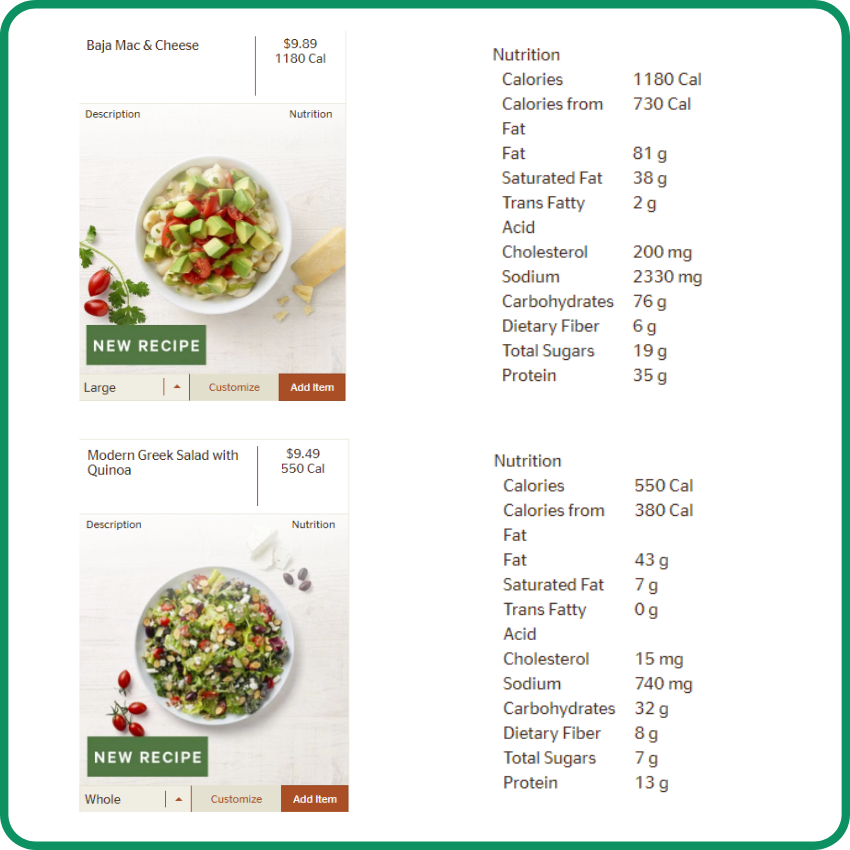 Good options
Compared to the above options you can see that these look similar in terms of first sight, but further evaluation shows that these options are much lower in calories and fat which make them healthier choices
2. Chipotle
Chipotle's fast casual dining is a super popular option for a nicer-than-fast-food-but-still-fast-food. For the most part it's clean food that tastes great, but there are some nuances you have to watch our for to be bariatric friendly.
What to avoid
Although these options don't look like bad choices at first glance, take a look at their nutrition. Both are very high in fat and calories. Be careful here as toppings/fillings can add up quickly. Guacamole, sour cream and cheese are all high in fat and calories.
Good options
These options are great because they provide high protein while also limiting fat and calorie intake. Adding items like veggies and salsa compared to cheese and sour cream will make a huge difference.
The key is getting tons of flavor from the protein and the free salsas and peppers. Avoid the cheese, queso and extra GUAC.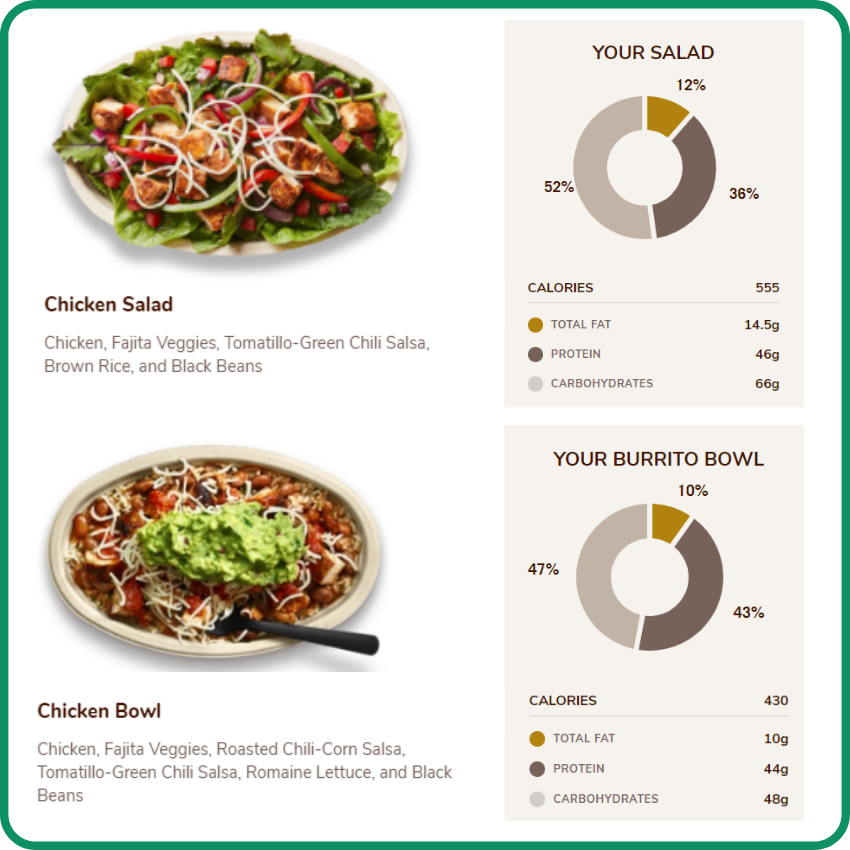 3. Subway
As we all probably know, they offer two sizes for their normal sandwiches, footlong and six inch. Please note that even if you decide to order a footlong you can always eat half and save the other half for later.
What to avoid
Just because it's Subway does not mean that all of their choices are good. The two options shown below show very high fat and calories. Avoid the sandwiches that are high in calories before even adding toppings.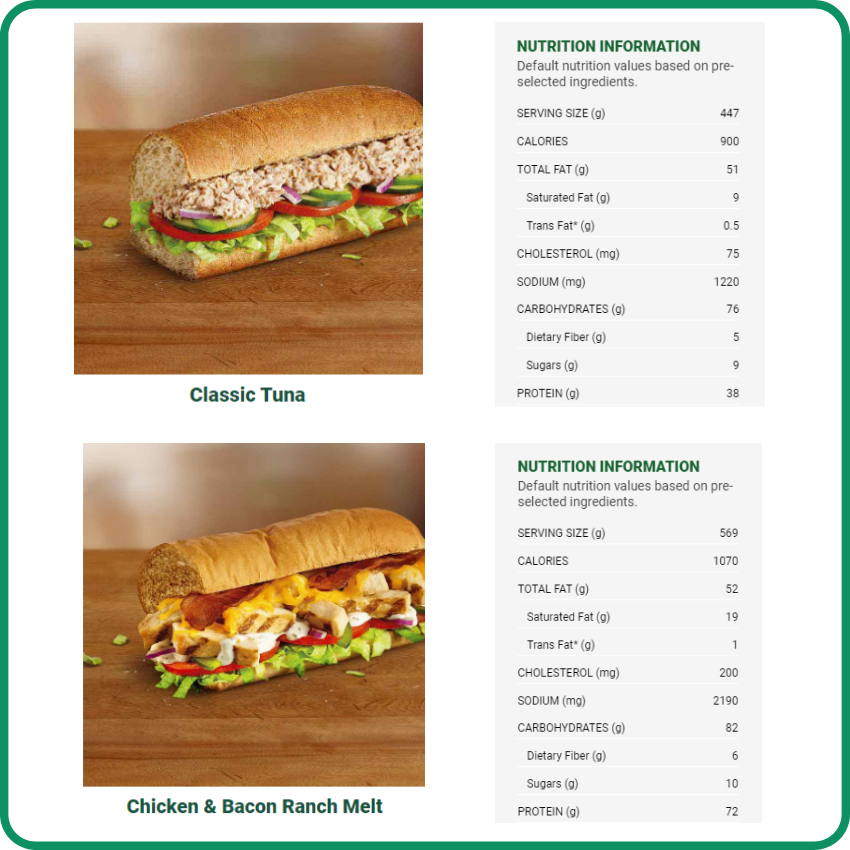 Good options
These two sandwiches are great choices due to their lower calorie and fat as well as high protein content. We would also recommend adding items like veggies and spinach to add some flavor and crunch without all of the added calories.
4. Chick-fil-A
Chick-fil-A makes some of the best chicken you can find. It's fast and affordable and the people who work there are actually nice…but how do you eat at Chick-fil-A while staying bariatric friendly? Here's how:
What to avoid
Fried chicken is hard to resist, but it's the fried stuff that'll get you in trouble. The buns are buttered, the chicken is fried in oil and the dressings on fried chicken salads are high in fat.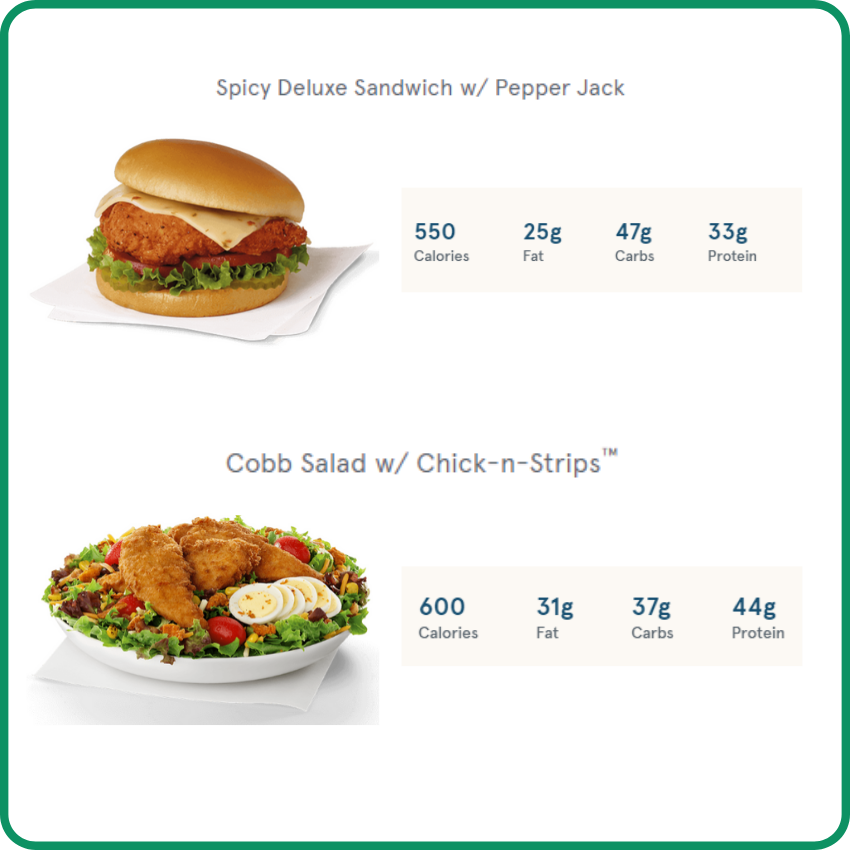 Good options
You can still get the great taste of Chick-fil-A chicken in the grilled format. Get a grilled sandwich or chicken nugget meal with a side salad and you are well in the Bariatric Friendly zone.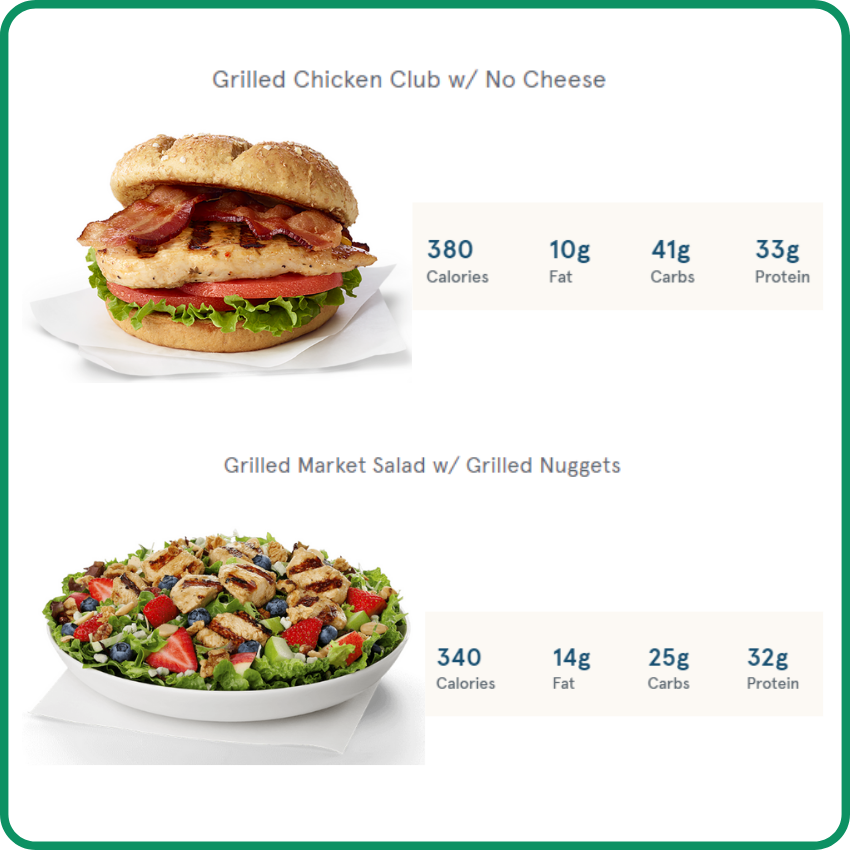 5. Applebee's
There's 1,787 Applebee's restaurant locations in the U.S. Chances are there's one within a few miles of your house. Convenience doesn't have to come a caloric price – you just have stick to these guidelines to enjoy this restaurant.
* Please note that these do not include sides as there are many options to choose from. Be just as mindful when choosing sides.
What to avoid
Pastas and anything fried will be higher in calories and fat.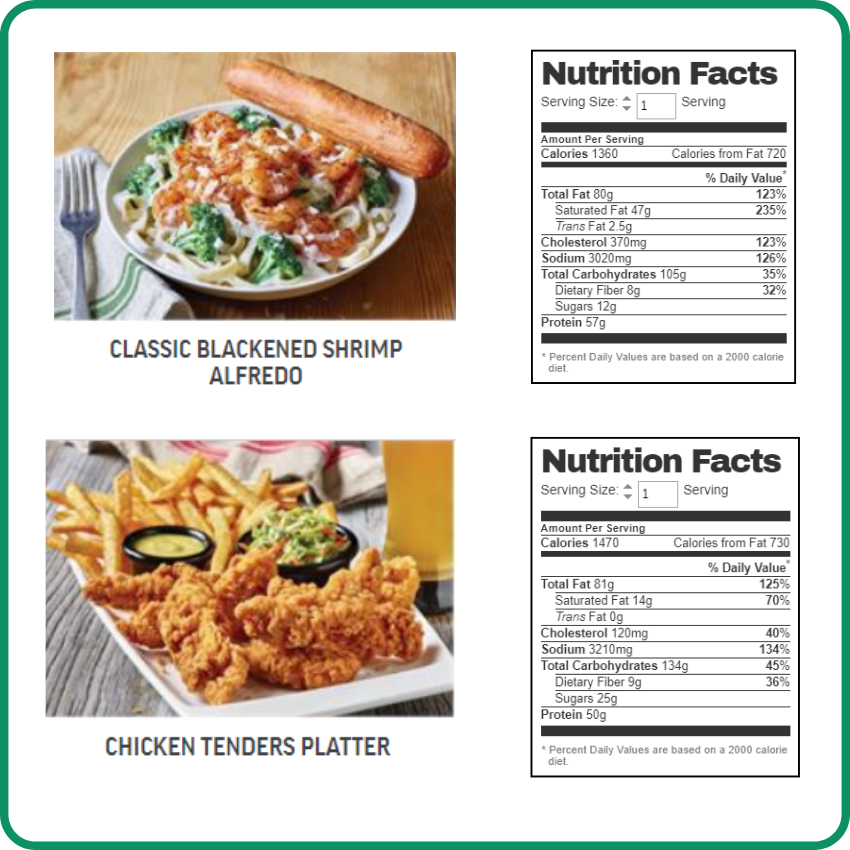 Good options
The below nutrition information is for the main entree, not sides. So stick with steamed veggies – NOT pasta, mashed potatoes or anything else that butter, cream and salt can be abused.
6. Chili's
Did someone say…Baby-Back ribs?
Luckily, Chili's has introduced some bariatric friendly options to their menu, but that wasn't always the case. Your selection will determine just how bariatric friendly Chili's is for you.
What to avoid
Fried foods, burgers, pastas etc… These types of food will cost you a lot of calories and give you more fat than you need.
Good options
Something grilled or baked. Also having healthy sides like fresh or grilled vegetables will make a huge difference.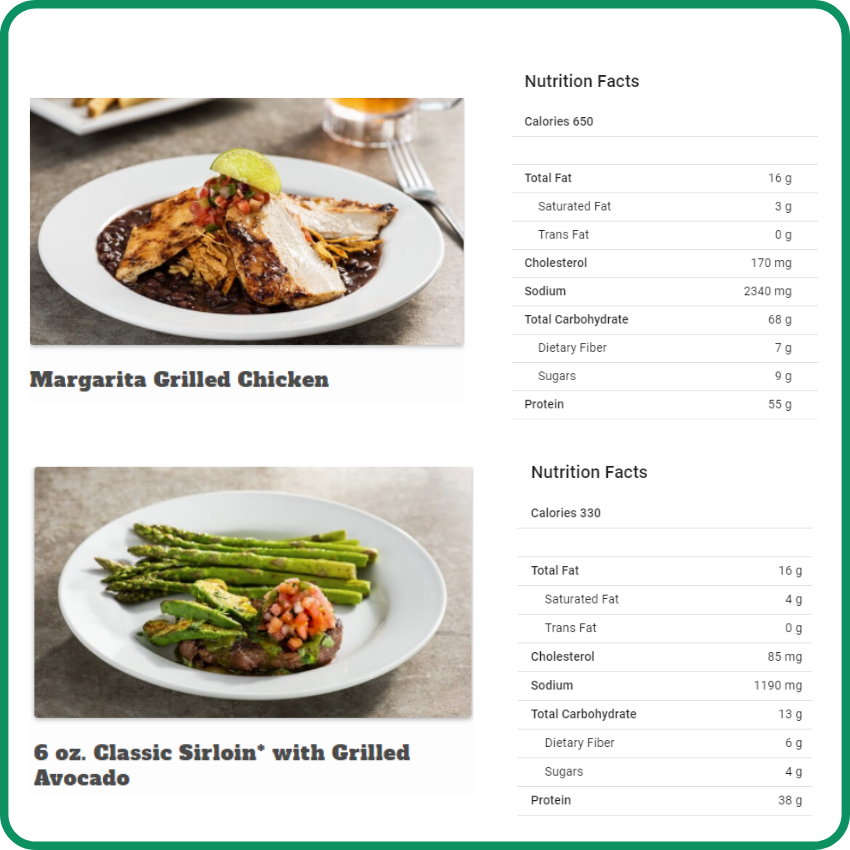 7. Olive Garden
This one may surprise you to fall on a list of bariatric friendly restaurants, but we stick by our philosophy that any restaurant can be bariatric friendly. It's your meal choice that ultimately determines whether it's bariatric friendly, or not.
What to avoid
Olive Garden is famous for its endless salad and breadsticks as well as its many different pasta dishes. These will add up quickly and throw you off your diet in no time.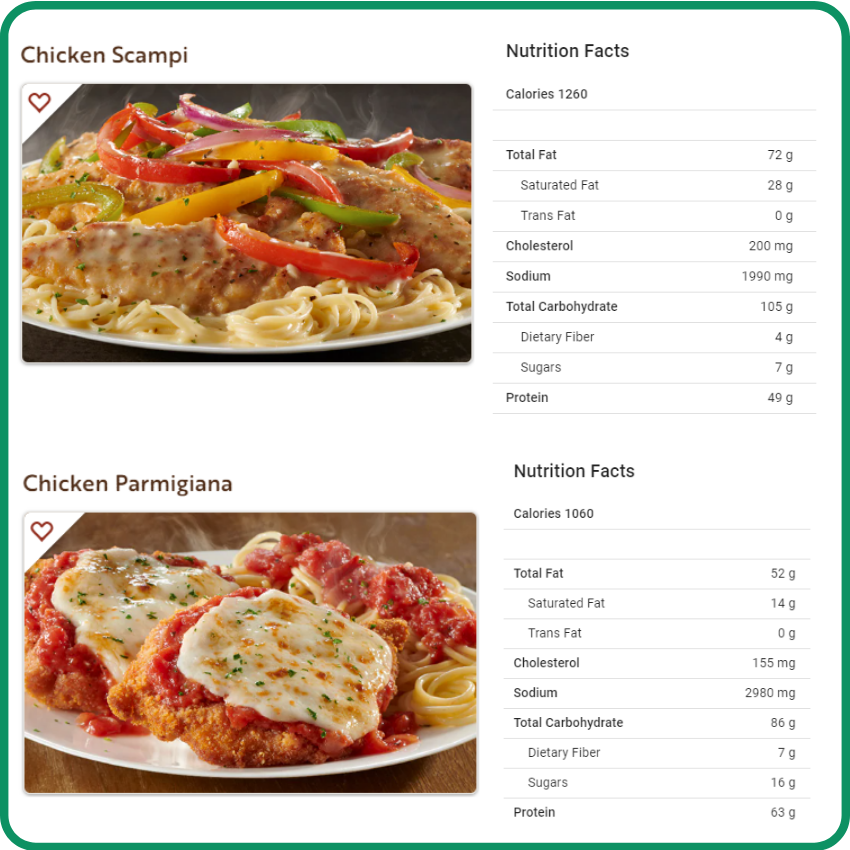 Good options
Going with a lighter pasta dish like the shrimp scampi will help you keep your calories low. It can also be a good idea to order from the kids menu if you aren't seeing anything that would fit your diet.
*Pro Tip: try ordering from the lunch menu or ask for a to-go box right when your food comes. Stash half in the to go box so you won't be tempted to eat the whole meal.
8. Cracker Barrel
Surpised again? Cracker Barrel is known for good old-fashioned cooking. Fried chicken, chicken and dumplings and other rich dishes come to mind. But you can even make Cracker Barrel bariatric friendly with the right choices.
What to avoid
They have a pretty big menu with endless sides so a couple of things to watch out for are anything fried, smothered, or high in fat like sausage or ham.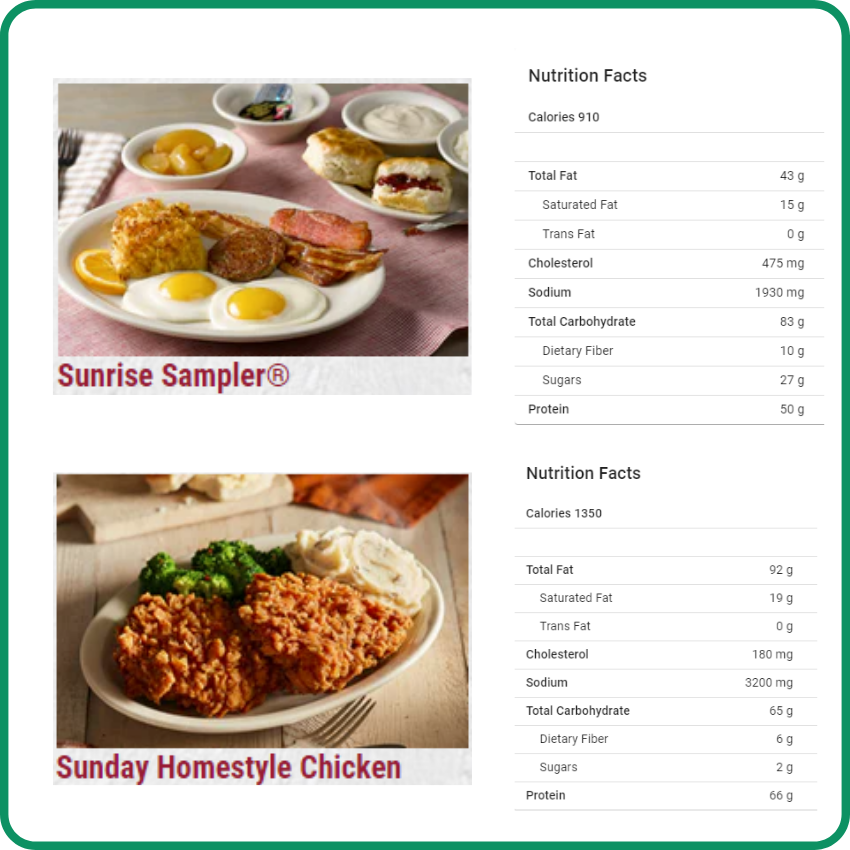 Good options
Look for something grilled if you can and choose healthy sides like a side salad with dressing on the side, green beans, carrots etc…
9. O'Charley's
Please note that these do not include sides as there are many options to choose from. Be just as mindful when choosing sides.
What to avoid
Since they are well known for their chicken tenders and dinner rolls, it is a good idea to steer clear of them. Anything fried or covered in butter will be high in fat and calories.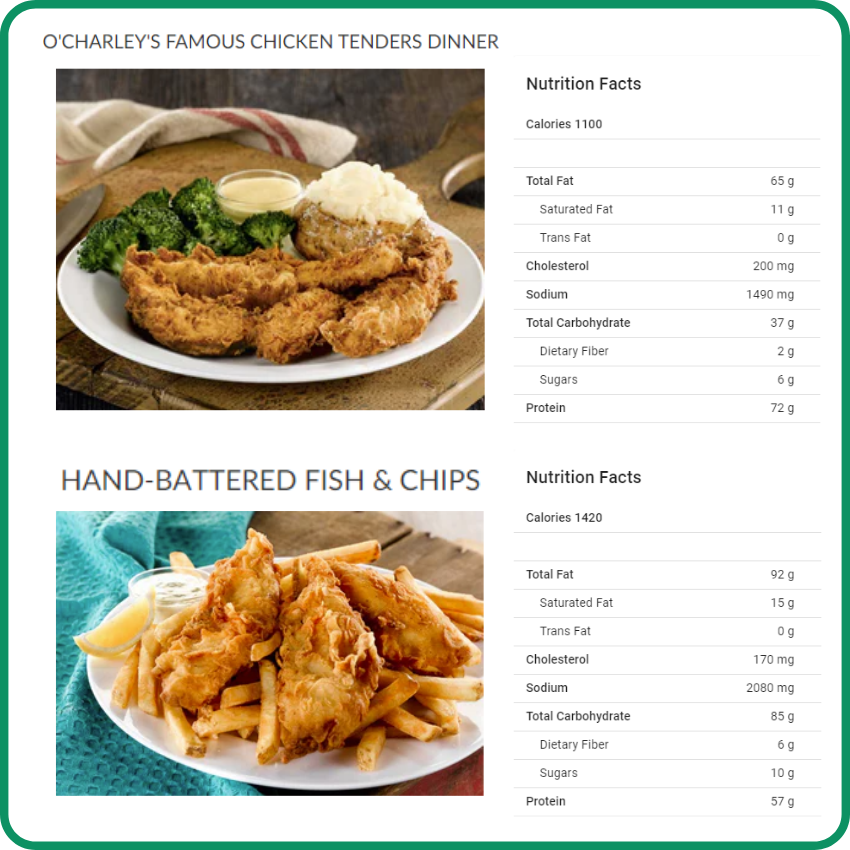 Good options
Look for grilled or baked options as well as healthy sides like broccoli or sweet potatoes.
10. Texas Roadhouse
Please note that these do not include sides as there are many options to choose from. Be just as mindful when choosing sides.
What to avoid
Stay away from fatty steaks as they will shoot your calories way up before you even dig into your sides. Also, just because it's a salad doesn't mean it's a good choice. Caesar salads are high in fat because of their special dressing.
Good options
Once again anything grilled or baked is a great choice. Pair this with good healthy sides and you will leave feeling full and satisfied.
Action steps
Recall a time when you went to a restaurant and remember what you ordered. Visit that restaurant's website and pull up the nutrition information for the item you ordered.
Evaluate that item as if you were looking at a nutrition label.
This will help you see how you would have done before reading this article.
Finally, plan your next restaurant outing but prior to visiting the restaurant, access the nutrition information and make your selection based on your calorie goal.
Make sure when you go to the restaurant to stick to your plan and have fun knowing that you're staying on track while enjoying yourself!
The bottom line on bariatric friendly restaurants
Almost any restaurant can be made bariatric friendly.
It ultimately comes down to your menu selection. Of course it's easy to get tempted by the unhealthy options, that's why if you can plan ahead by looking at your restaurant's nutritional information and make your choice before you even get to the restaurant you'll be better prepared.
Just because you had bariatric surgery doesn't mean you're limited to home-cooked and bland meals forever. Go to a restaurant every now and then, just be mindful of your menu choice and you can make ANY restaurant bariatric friendly.
Looking for some easy single serving meals? Check these out now