Were you elated when you hit your lowest recorded weight since having the roux-en-y gastric bypass (RYGB), only to realize a few months later that your weight was slowly creeping back up? Have you struggled to stay at your lowest achieved weight and don't know what to do? Or are you considering RYGB because you have heard of the incredible short-term results, but you don't know what the long-term challenges are?
If the answer to any of these questions is yes, then be sure to read this article in its entirety. This article will discuss the reality that you may regain some of your lost weight following the RYGB. You will learn why weight gain might occur, how to prevent it, and what to do if you experience unwanted weight gain.
The reality of regaining some of your lost weight
Bariatric surgery is the most effective treatment for morbid obesity because it leads to significant and lasting weight loss. The RYGB is considered the gold standard of bariatric surgery.
Following the RYGB, most patients see incredible weight loss results in the first 6-12 months following surgery. Satisfactory weight loss is defined as losing 50% of your excess body weight or more. Weight loss occurs relatively effortlessly immediately following surgery, but in the long term, it is not uncommon to gain some of that lost weight back.
RYGB patients usually regain some or most of their lost weight back in 10 years. It is estimated that about 50% of patients will begin to regain a portion of their lost weight within 2-5 years of achieving their lowest recorded weight. On average, about 20-30% of morbidly obese people who underwent RYGB will experience significant weight gain in the years following the achievement of their lowest recorded weight.
Significant weight regain is defined as a ≥25% gain of the weight that was lost in the first year post-op. A study evaluating weight loss at year one and year 7 found that excess weight regain occurred in 37% of patients. Weight regained on average was about 23.4% of the lowest recorded weight following surgery. A 10-year study found that patients regained an average of about 34% of max weight lost at year 1.
Weight gain is a common complication following RYGB surgery. It usually occurs over time, and various factors can contribute to the regaining of lost weight.
Many studies have found that the amount of weight loss in the first year post-op is not significantly associated with the percentage regained. This means that no matter if someone lost 50lb or 150lb following surgery, they all regained about 23% of their lost weight back.
So, you might be thinking, is there any positive news?
The answer is yes! There are some things you can do to promote overall weight loss and manage your weight following surgery.
One important thing to note is that losing more weight in the first year post-op is a better predictor of long-term absolute weight loss. This means that if you lose 50 lb and gain 23% back, your overall weight loss is 38.5 lb. If you lose 150 lb following surgery but gain 23% back, your overall weight loss is 115lb. So, if you lose more weight in the first year, it can result in more weight loss overall, even with some weight gain over time.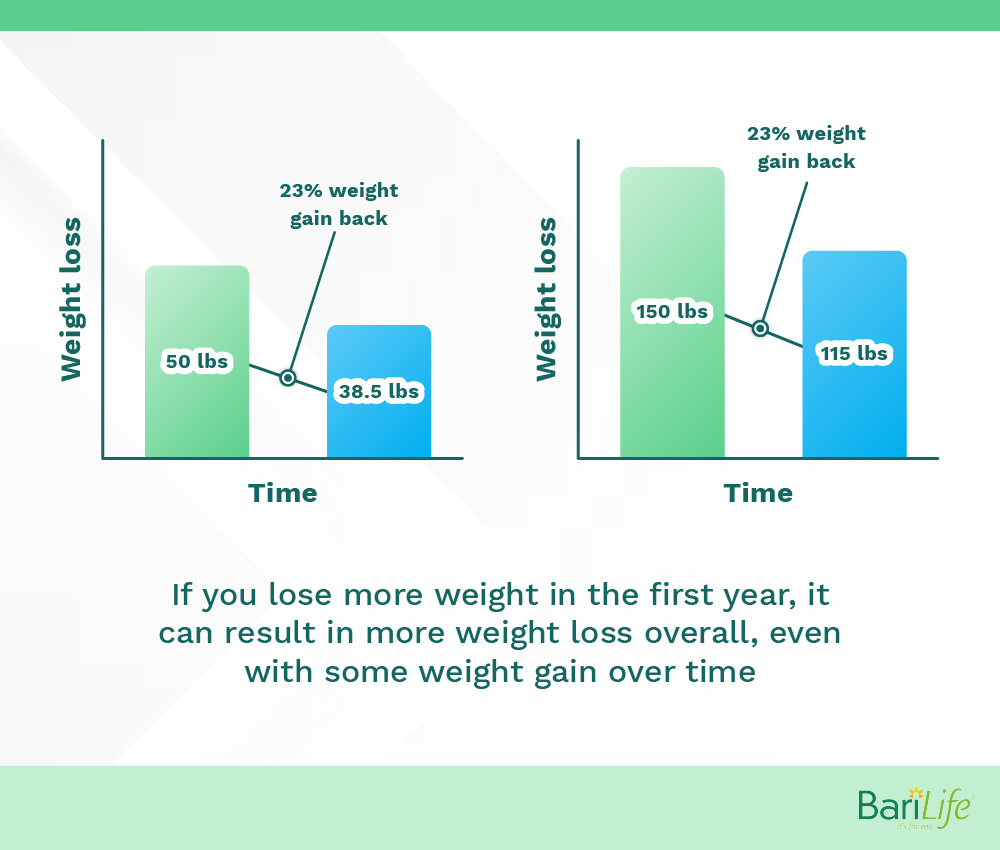 One of the most important things you can do following RYGB is focusing on early postoperative management to maximize weight loss outcomes in the early stages following surgery.
Why does weight loss occur so quickly in year 1?
Generally, weight loss happens pretty quickly in the first 6-12 months following RYGB. This period of rapid weight loss is often referred to as the "Honeymoon phase".
During the honeymoon phase, you will have to make many adjustments in your diet as you progress through the 4 phase post-op diet. You will have a lower calorie intake, especially in the early stages, and you may experience adverse side effects like dumping syndrome when you consume too much food or foods high in sugar and fat. Weight loss occurs due to early post-op diets, restricted calorie intake, and poor tolerance to certain foods.
Motivation is another reason rapid weight loss may occur immediately after surgery. Generally, you experience very high motivation following surgery because you are finally ready to achieve your dream body weight. Initially, as the weight begins to fall, you continue to experience high motivation levels. However, as time passes, weight loss begins to level out, and your motivation may start to dwindle.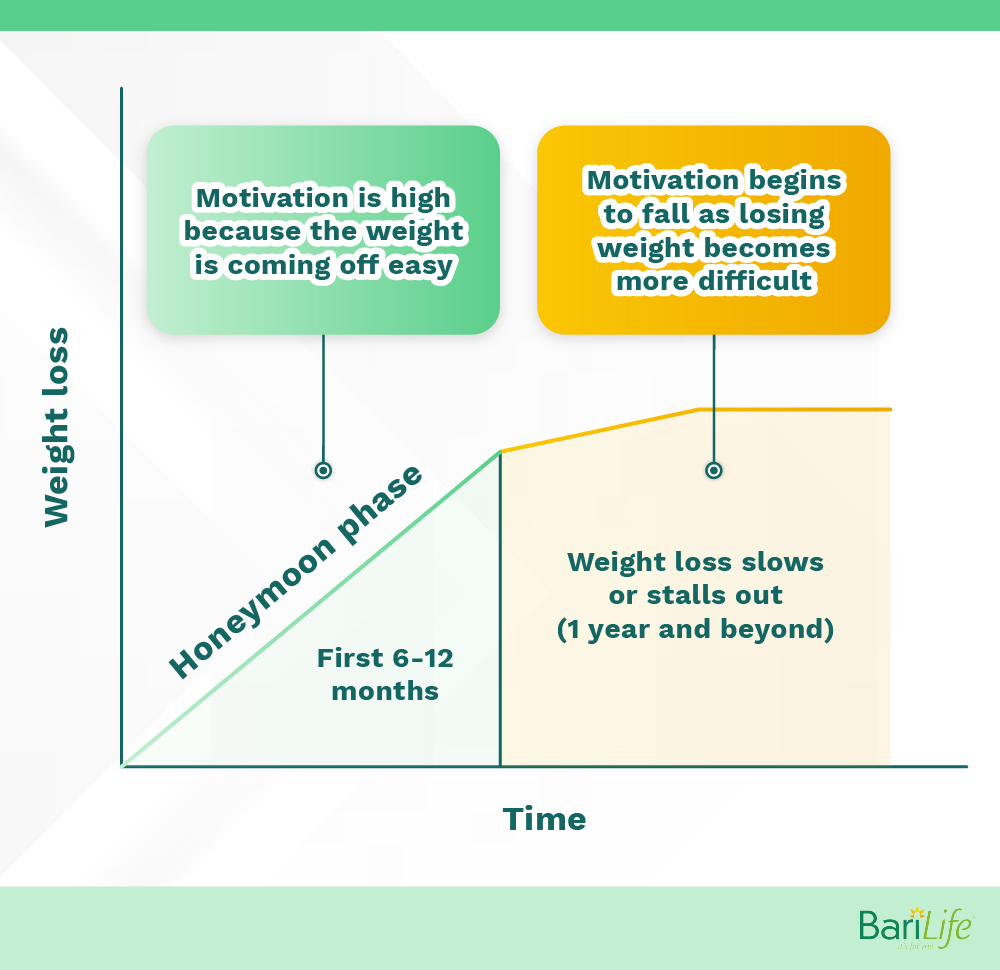 Weight loss becomes more and more difficult because you have more freedom in your diet and lifestyle. Old habits may reappear, you may experience changes in hunger and cravings, and your body can tolerate more food leading to unwanted weight gain. This is the time where it is critical to focus on good lifestyle habits and reigniting your motivation.
What factors contribute to weight gain following gastric bypass?
Weight regain following RYGB is multifactorial. Factors that contribute to weight gain can be related to genetic, psychological, behavioral, and physical characteristics.
The primary reasons weight gain can occur include:
Noncompliance with diet
Limited physical activity/exercise
Dilation of the gastric pouch and stoma
There are many aspects to your diet that can lead to weight gain. Changes in your diet will occur as you advance through the 4 phases. Once you reach that 4th phase, it is easier for your body to tolerate foods, and you begin to eat more. As your intake increases, your gastric pouch may start to stretch out. This allows your body to eat even larger portions and negatively impacts your ability to feel full.
Other dietary habits that can cause unwanted weight gain include:
Binge eating
Grazing
Emotional eating
Food urge control
Portion control
Changes in diet
Physical activity is another critical factor in preventing weight gain following RYGB.
Two factors to think about when evaluating your exercise routine include:
Days per week of routine exercise
Exercise session duration
Research shows that people who participated in a minimum of 150 min per week of physical activity had a smaller percentage of weight gain following RYGB.
What are the negative effects related to weight gain?
Weight regain can have some adverse effects on your health and wellness. Weight regain can:
Lead to the return of comorbidities
Negatively affect your quality of life and mental health
Weight can cause obesity-related diseases to return even if there was remission following RYGB. It is essential to monitor for signs and symptoms of obesity-related diseases if significant weight gain has occurred.
Weight regain can also have a negative impact on quality of life. It is suggested that weight gain of about 15% or more led to a quality of life that was similar to the quality of life of obese people that were heavier and did not have any surgical intervention.
How can I prevent weight gain or get back on track if I have already gained weight?
Incorporating healthy diet and exercise habits are necessary to prevent and treat weight gain.
In addition to diet and exercise, research shows that there are some additional factors for successful weight loss. These include at least one surgical appointment/follow-up and attendance of one or more post-operative support groups.
Here are some actionable steps to reduce your risk of weight gain
Follow up with your surgical team at least once after your RYGB
Find a Support group/support system to help you stay on track
Exercise 150 min per week (30 min a day, 5x a week)
Stick to your post-op diet and calorie intake goals

Track calories if needed
Incorporate healthy foods into each meal
Monitor portion sizes
Limit frequently unplanned snacking a grazing
Work with a Registered Dietitian

Find ways to cope with emotions other than emotional eating

Exercise
Journaling
Call a friend
Read a book

Work with a multidisciplinary team

Dietitian
Exercise therapist
Behavioral therapist
What are some other options to treat weight gain?
Pharmacotherapy
Medications are available to aid in weight loss or to help treat weight regain. Be sure to consult with your physician to see if you are a good candidate for these medications.
Surgical reintervention
If your gastric pouch is dilated or larger in size there are surgical options to help you to resize your gastric pouch. This can help to reduce the amount of food you consume and allow you to control your hunger levels.
Secondary surgery may seem like a quick and easy fix, but research shows that it might not be the case. The treatment of weight regain by way of revisional surgery carries both short and long-term complication rates of 11.5 and 15.5%, respectively.
It has also been reported that 13% of revisional surgeries require an additional surgical intervention which then leads to even higher rates of serious adverse events.
Due to the high rates of complications, surgical intervention is not preferred, especially if you can avoid surgery with a multidisciplinary approach.
That's a wrap!
It is important to note that weight regain is not uncommon following RYGB. Weight gain can occur due to changes in your diet, inadequate physical activity, and dilation of your gastric pouch. In order to prevent or treat weight gain, it is essential to implement healthy diet and lifestyle choices into your daily life. And finally, be sure to set realistic expectations related to the long-term results of the RYGB.