4 Phase Diet – Phase 3: Soft Food
4 Phase Diet – Phase 3: Soft Food

After completing the Pureed Food phase we're sure you're ready to move on to Soft Foods.
The purpose of the Soft Food phase is to introduce fruits and non-starchy vegetables into your diet and to slightly increase the size of your meals.
Goals for Phase 3 - Soft Food
Protein:
→Women: >60 grams
→Men: >75 grams
→BPD/DS: >90 grams
Carbs: 30-60 grams
Fat: 30 grams
Fluid: 64 ounces

How long is the Soft Food Phase?
Total meal size should be 3 oz (maximum) – this is about the size of the palm of your hand
Eat protein first (2 oz.) and fruit or veggies second (1 oz)
Don't drink anything during meals
Wait to drink until 30 minutes after meals
Use protein supplements in between meals to help meet your daily protein goal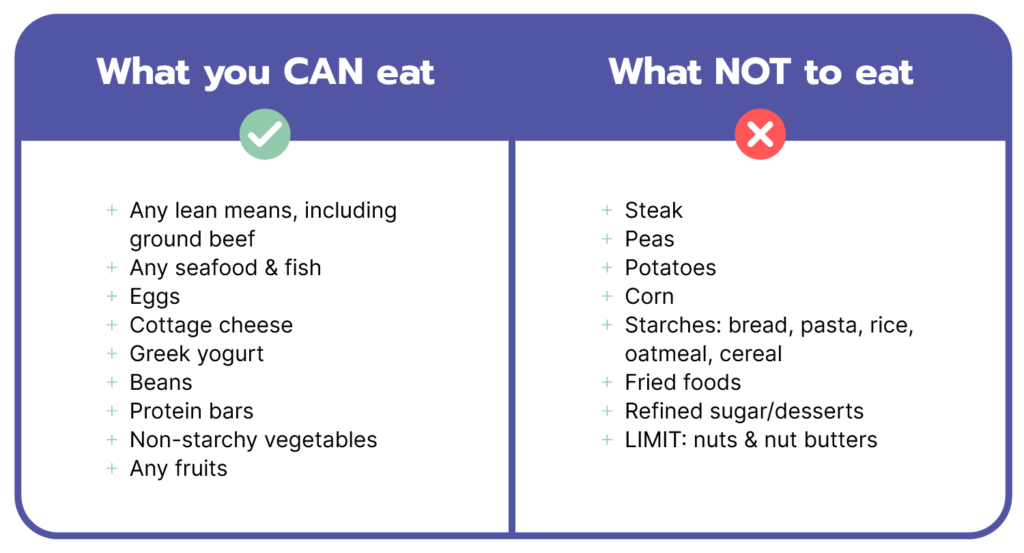 Here's what your plate should look like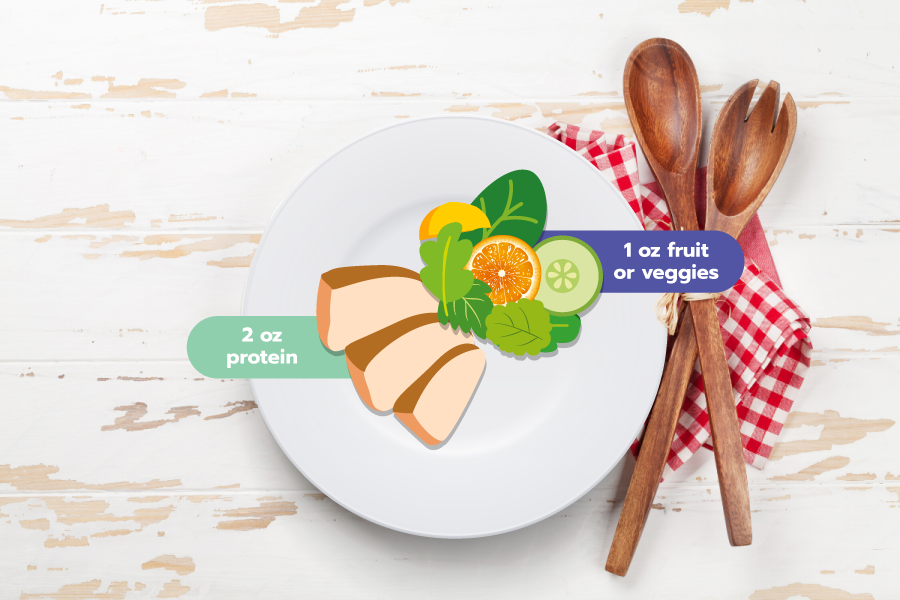 Keys to Surviving the Soft Foods Phase
During Phase 3 it's important that you focus on eating 3 meals per day without any aimless snacking. The 2-3 ounce meal size is a maximum, not a minimum so if you get full before finishing you should stop.
The entire meal should be 3 ounces. So you can either have 3 ounces of protein or 2 ounces of protein and 1 ounce of fruit or vegetables. Also, keep your fruit and vegetables to 1 ounce total, this will help you prioritize your protein and help you reach your daily protein goal.
Aim to keep your mealtime under 20 minutes. This will help you avoid overeating. Also, don't ever force yourself to finish your meal if you get full before you eat everything. Listen to your body and protect your pouch – NEVER eat to the point of discomfort!
Sample Soft Food Meal Plans